In 1989, the Roadford Reservoir was created just to the west of Bratton Clovelly. It's a huge expanse of water, fed by the River Wolf, that provides much of the fresh water supply for the Southwest of England. Did you know that archaeological excavations were done at this site before the water covered the ancient settlements along the River Wolf? Did you help to build the reservoir or participate in the excavations? Did you know that a documentary series was made of these excavations and it's available online to UK viewers, courtesy of 4 on Demand? The field reports are kept at Exeter Museum and listed at GenUKI.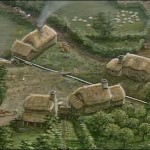 Narrated by Mick Aston of the University of Bristol, the same Mick that went on to feature in the popular and long-running Time Team series, this set of documentaries called Time Signs works backward through the history of the area from present day to neolithic times. The first episode starts with the recently abandoned farmstead of Shop Farm to explore what we can learn from buildings still standing. Episode 2 begins with a short look at what might be found near the surface of a Bratton Clovelly garden and goes on to unearth the 19th century settlement at Hennard Mill. It also provides a short but remarkable tour of the Church of St Mary the Virgin at Bratton Clovelly. Episode 3 jumps back to the underlying settlement at Hennard in the Middle Ages, already the site of a fulling mill in the 13th century. This episode ends with a closer look at Broadwoodwidger's St Nicholas, with benches built the year of the Reformation Parliament in 1529. Episode 4 then travels back to the prehistoric occupants, thought to have first permanently settled in the Wolf Valley about 4 to 5,000 years ago. Overall, it's incredible to see the story unfold.
For those unable to view the Channel 4 programmes, click here for more information.